Directions to Sandybeach of Newfound on crystal clear Newfound Lake, Bridgewater, New Hampshire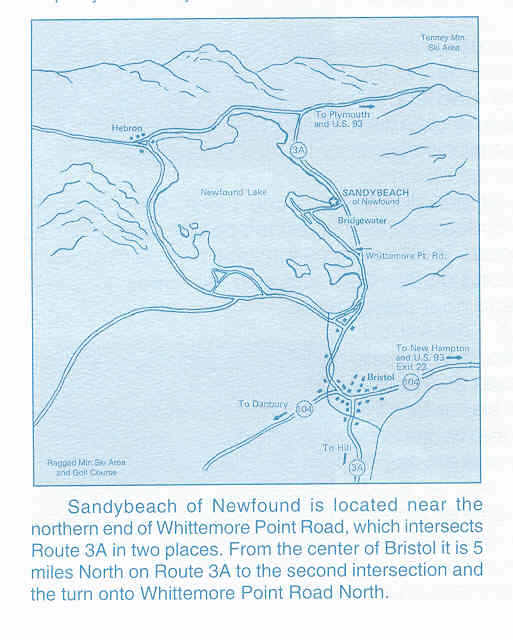 Directions to Sandybeach of Newfound on Newfound Lake, NH
If you are coming from the South you will take NH Interstate 93 to exit 23.

Turn left onto 104 west to Bristol. At a traffic light (the only one) 104 goes west and a few miles that direction there is a supermarket. To come to Sandybeach of Newfound you do not turn, but go straight on through the light on route 3A. You will pass by an intersection with a blinking light (that may not be turned on) and you continue straight. 3 miles from that light turn left onto Whittemore Point Road North. Make sure you pass by Whittemore Point South and you also pass by Newfound Country Store which is a nice small grocery. Whittemore Point Rd. North is at the foot of the hill past Newfound Country Store.
Once you are on Whittemore Pointe Road North, you will see a streetlight and a Sandybeach of Newfound sign in the distance on the left. That is on Sandybeach property. The driveway to our house (the office) is across Whittemore Point Road North from the sign, and the number on our house is 86. The mailbox also has the number 86 on it.
Website powered by Network Solutions®