2023 Prices now posted on this website and now reserving for Summer 2023. Very limited openings, but please
give us a call (603) 744-8473 or email Nancyhand9@gmail.com.
Cottages for rent on Newfound Lake's finest Sandy Beach
Year round and Seasonal Homes and Housekeeping Cottages for Rent on quiet Newfound Lake, just south of the White Mountains in New Hampshire. The perfect NH Vacation Rental for your family. Use Contact Form, email nancyhand9@gmail.com , or call (603) 744-8473.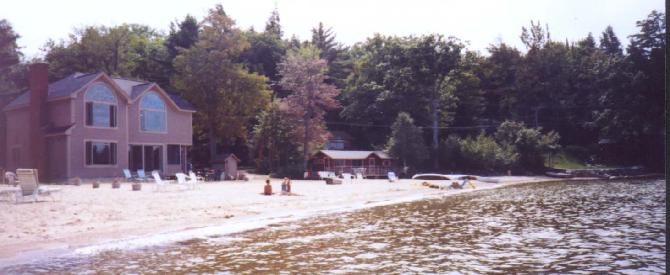 Broad Gently Sloping Sandy Beach on Newfound Lake
Glorious Sunsets
Houses and Cottages for rent on Newfound Lake in New Hampshire. These cottage rentals share the nicest beach on Newfound Lake. Located on a small road going out to a point, and surrounded by woods, there is a feeling of privacy even though you are near all conveniences.

Sandybeach of Newfound features pure white sand and refreshing clear blue lake water that combine to make our private beach on Newfound Lake one of the most beautiful in New Hampshire. The gently sloping shoreline is ideal for even the smallest child and the surrounding mountain views form the setting for our spectacular panoramic sunsets.


The Houses and Cottages for rent are completely furnished, and exceptionally clean. They vary greatly in style and age, but all are well maintained with well equipped kitchens, modern, and comfortable. Most have screened porches and fireplaces. All have heat for cool evenings.
Our Houses, Chalets and Cottages have been a favorite family rental for generations. If you are looking for nice accommodations to rent on Newfound Lake in New Hampshire, you can not find better than these. Our natural sandy beach is as nice as Wellington State Park - and it is private for the families who rent cottages at Sandybeach of Newfound.

Although there is a TV in every cottage, most families enjoy spending time together playing games, watching a fire in the fireplace, or having lively conversations. Although some kids bring video games, they often spend more time playing Marco Polo in the lake, shooting baskets, playing whiffle ball, volleyball or playing flashlight tag in the evening.

Kids who have grown up coming to Sandybeach of Newfound are now coming with their children (and grandchildren!). Spend a week at Sandybeach and you will make it your family tradition too.